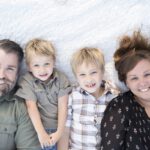 6 years ago, when I started my photography business, Alexis LeClair Photography, I asked fellow photographers to critique some of my business materials.  The first thing that was criticized was my tag line "Capturing God's Beauty One Portrait at a Time", at the bottom of all of my paperwork, contracts, business cards, marketing brochures, etc.  I was told that it would drive people away and make me sound like a religious nut.
I didn't have to think much about it before I explained to them that if I honored God with my business, He would honor me. When I had quit my stable, well paying job, I gave everything up to the Lord.  If my business was to be successful, it was because of the Lord and His guidance.
Why the cheesy tagline though, how does God apply to "just taking a picture"?
Just a few years prior, I didn't believe in God.  I believed that in order to succeed, I had to be the one to make success happen (in all aspects of my life).  I didn't rely on anyone, I relied on my ability to control my own life.  Then my life changed and I realized that sense of control I had was completely false.
When that control started unraveling, all I could see was ugliness in people, in my life, in the world around me, I  didn't see beauty, even within myself.  God opened my eyes to His love for not just me, but for ALL of His creation.
He brought photography to me to show me His creation through His eyes!  I had been blinded by ugliness and everywhere I looked, I saw flaws.  But God tells us that ugliness is not what God sees in us!!!
"You are altogether beautiful, my darling, beautiful in every way." – Song of Solomon 6:4




Long story short, God opened my eyes to see His beauty.  God created us in HIS image.  When we put ourselves down, we are putting Him and His creation down.
"So God created human beings in his own image.  In the image of God he created them; male and female he created them." – Genesis 1:27
Yes, this means you are beautiful just the way you have been created by our Father!!  
This is what my journey with photography has been with Jesus.  I see beauty instead of flaws and I help my clients see that too!  God helps me show others the true beauty they have as His beloved creation.
Photography is so much more than a pretty picture.  I love capturing others beauty *inside and out* but it's also about connecting people with Jesus through images.  There is so much noise in this world, so much that we can't see when Jesus is trying to show us.  For me, taking a photo of a family with their children, silences the noise of the world so they can just see a glimpse of what truly matters.  The time spent together, the memories and smiles shared are all what Jesus wants us to have.
I was honored to capture some moms and their families on Mother's Day at the Vineyard, you can check out the gallery here: https://alexisleclairphotography.shootproof.com/vineyardmoms
All proceeds from print sales will benefit children and youth ministries at the Vineyard church in Red Bluff! If you'd like to preview some more of my work, head over to my website or follow me on Facebook.