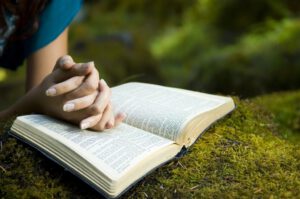 Below are a variety of Scripture Reading Plans that can help you stay grounded in God's Word. If you struggle to know where to start or have trouble regularly reading the Bible, these plans can help you! Some are more intense than others, but all will help you to daily read through Scripture!
As far as translations go, if you are looking for a very readable, accessible, and easier to understand translation, check out the dynamic translation the New Living Translation. If you want something that's more of a formal equivalent, check out the English Standard Translation. We also think the New International Version is a great "in-between" translation (Gordon D. Fee & Mark L. Strauss' How to Choose a Translation for All Its Worth is a helpful guide on translation theory).
---
1. Let's start with the most doable of the plans: Stephen Witmer's two-year-Bible reading plan. Stephen writes: "In my opinion, it is better to read the whole Bible through carefully one time in two years than hastily in one year." His plan has you read through one book of the Bible at a time (along with a daily reading from the Psalms or Proverbs. At the end of two years you will have read through the Psalms and Proverbs four times and the rest of the Bible once.
2. Already mentioned above, the Robert Murray M'Cheyne reading plan, developed by the 19th century Scottish pastor, has been widely used for Bible reading. The Gospel Coalition's For the Love of God Blog(which you can subscribe to via email) takes you through the M'Cheyne reading plan, with a daily meditation each day by D. A. Carson related to one of the readings. M'Cheyne's plan has you read shorter selections from four different places in the Bible each day. (For a print version of Carson's books, see volume 1 and volume 2.)
3. Jason DeRouchie offers his KINGDOM Bible Reading Plan (this is the plan that Pastor Luke follows), which has the following distinctives:
Proportionate weight is given to the Old and New Testaments in view of their relative length, the Old receiving three readings per day and the New getting one reading per day.
The Old Testament readings follow the arrangement of Jesus' Bible (Luke 24:44—Law, Prophets, Writings), with one reading coming from each portion per day.
In a single year, one reads through Psalms twice and all other biblical books once; the second reading of Psalms (highlighted in gray) supplements the readings through the Law (Genesis-Deuteronomy).
Only twenty-five readings are slated per month in order to provide more flexibility in daily devotions.
The plan can be started at any time of the year, and if four readings per day are too much, the plan can simply be stretched to two or more years (reading from one, two, or three columns per day).
4. Trent Hunter's The Bible-Eater Plan is an innovative approach that has you reading whole chapters, along with quarterly attention to specific books. The plan especially highlights OT chapters that are crucial to the storyline of Scripture and redemptive fulfillment in Christ.
5. For those who would benefit from a realistic "discipline + grace" approach, consider Andy Perry's Bible Reading Plan for Shirkers and Slackers. It takes away the pressure (and guilt) of "keeping up" with the entire Bible in one year. You get variety within the week by alternating genres by day, but also continuity by sticking with one genre each day. Here's the basic idea:
Sundays: Poetry
Mondays: Penteteuch (Genesis through Deuteronomy)
Tuesdays: Old Testament history
Wednesdays: Old Testament history
Thursdays: Old Testament prophets
Fridays: New Testament history
Saturdays: New Testament epistles (letters)
6. There is the Legacy Reading Plan. Here is a description:
The overarching objective of the Legacy Reading Plan is to read through the Bible once a year, every year for the rest of your life. The reading calendar is naturally segmented into seasons and the seasons into months. At the beginning of each year you know that during the winter your focus will be on the Pentateuch and Poetry (249 chapters); in spring, the Historical books (249 chapters); in summer the Prophets (250 chapters); and during the fall, the New Testament (260 chapter). Each season is further broken down into months. Thus every January your goal is to read through Genesis and Exodus and every December the Synoptic Gospels and Acts. There are times when you will naturally read ten chapters at a time and others when you will read one or two. More importantly you will read the Bible just as you read other literature.
If you use this plan, it may be helpful also to have something like this on hand.
7. Finally, here is a 5-day-a-week Bible reading plan recommended by Melissa Kruger. She likes that it allows for flexibility (despite our best intentions, it's easy to fall behind with a 365-day plan). She also likes it better than traditional chronological-reading plans:
The one downside of the chronological plan was that I didn't get to the New Testament until October. I prefer a plan that allows me to read them side-by-side throughout the year. In this 5-day plan, the Old Testament is arranged chronologically, and there is a New Testament reading every day. I appreciated the way they grouped the New Testament readings. The gospels are not in chronological order, but spaced throughout the year, one for each season. And, they are done in such a way that you begin with Mark (the first gospel), and then read some of the early epistles of Paul. Then around March, you'll be in Luke and read it alongside Acts (same author). I read John last month, along with his three letters and Revelation. Basically, I love how it's all laid out. It gives you the benefit of the chronological ordering for the OT alongside an engaging plan for the New Testament. Truly, I haven't read a plan that I like better.
WHAT ARE SOME ONLINE BIBLE READING PLANS?
There are a number of Reading Plans for ESV Editions. Crossway has made them accessible in multiple formats:
web (a new reading each day appears online at the same link)
RSS (subscribe to receive by RSS)
podcast (subscribe to get your daily reading in audio)
iCal (download an iCalendar file)
mobile (view a new reading each day on your mobile device)
print (download a PDF of the whole plan)
Chronological
Through the Bible chronologically (from Back to the Bible)
RSS | iCal | Mobile | Print | Email
Daily Office Lectionary
Daily Psalms, Old Testament, New Testament, and Gospels
RSS | iCal | Mobile | Print | Email
Daily Reading Bible
Daily Old Testament, New Testament, and Psalms
RSS | iCal | Mobile | Print | Email
ESV Study Bible
Daily Psalms or Wisdom Literature; Pentateuch or the History of Israel; Chronicles or Prophets; and Gospels or Epistles
RSS | iCal | Mobile | Print | Email
Literary Study Bible
Daily Psalms or Wisdom Literature; Pentateuch or the History of Israel; Chronicles or Prophets; and Gospels or Epistles
RSS | iCal | Mobile | Print | Email
M'Cheyne One-Year Reading Plan
Daily Old Testament, New Testament, and Psalms or Gospels
RSS | iCal | Mobile | Print | Email
Try this to access each of these Reading Plans as podcasts:
Right-click (Ctrl-click on a Mac) the "RSS" link of the feed you want from the above list.
Choose "Copy Link Location" or "Copy Shortcut."
Start iTunes.
Under File, choose "Subscribe to Podcast."
Paste the URL into the box.
Click OK.